AR Promotion Utilizing WebAR System that requires no app!
Developed by a creative technology company, Mawari Inc., you can watch Space Channel 5 in the real world through your phone! Using "8thWall," a WebAR system that doesn't require any apps, you launch an AR camera using a QR code or by visiting a URL on your smartphone. Anywhere you spot the Space Channel 5's "5" logo, you can aim the camera at it, and the "5" will pop up and start moving, before turning into a TV monitor with a video.  ※Please note the image is a work in progress and is subject to change.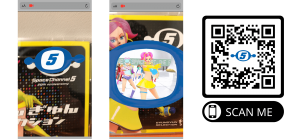 English ver.      ※You cannot launch the camera from PC.
https://mwr.jp/u/sc_5_b
How to use AR Camera
【STEP 1】 Launch the AR Camera URL on your smartphone (or scan the QR code below)
【STEP 2】 When you see "SpaceChannel5 AR is requesting access to this device," select "grant access."
【STEP 3】 When you see "'ar.mwr.jp' is requesting access to movements and direction," select "grant access."
【STEP 4】 When you see "'ar.mwr.jp' is requesting access to camera," select "grant access."
【STEP 5】 AR Camera will launch.
【STEP 6】 With AR Camera launched, scan the Space Channel series' "5 Mark" to play the promotion video.
Recommended Environment
・Device and OS    ※It may not work with some devices.
<iPhone> iOS11 or later (iPhone7 or later) <Android> OS4.4 or later
・Browser ※Please launch AR Camera in a browser specified for each device.
<iPhone> safari                      <Android> Google Chrome or default browser
Please note:
※To launch AR Camera, app download is not required.
※Updated browsers are required.
※Please update your browser and try accessing again.
※Scan may not work due to weather, environment, or the type of marker.
※When you scan, please make sure you are not disturbing other customers around you.
※Using a smartphone while walking is dangerous. Please make sure to stop when you use it.
※Please refrain from contacting each facility regarding this campaign.
back to news